Info, Actu et Événements France et International
Retrouvez ici ceux qui font l'actualité du Big Data

Préparer votre rentrée avec BigDataFr
Plus d'informations – je souhaiterais communiquer sur ma formation
---
[Insa Rouen] Mastère Spécialisé Expert en Science des Données en alternance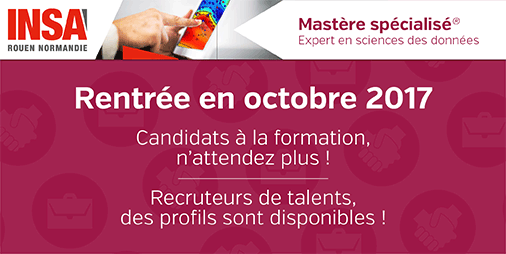 Inscrivez-vous au MS Expert en Science des Données de l'INSA Rouen – MS en alternance – Rentrée en octobre 2017

Ce Mastère spécialisé® de l'INSA Rouen Normandie en alternance forme des spécialistes capables de conceptualiser et modéliser des données massives hétérogènes, et de proposer des solutions pour l'analyse et l'optimisation des données : extraction de données pertinentes, classification, machine learning…
Votre profil : vous êtes étudiants, salariés/demandeurs d'emploi titulaires d'un bac+5 scientifique maths/info ou d'un diplôme d'ingénieurs.

Votre avenir : le placement des diplômés de ce Mastère spécialisé® sur le marché de l'emploi au sortir de leur formation est immédiat et leur niveau de rémunération très attractif. Un métier d'avenir !
Les inscriptions sont ouvertes : n'attendez pas !
Plus d'information/dossier d'inscription
---
[New @ ENSAI] MSc in Statistics for Smart Data – MSc in English: Become a skilled Data Scientist Ker- Lann Campus – Rennes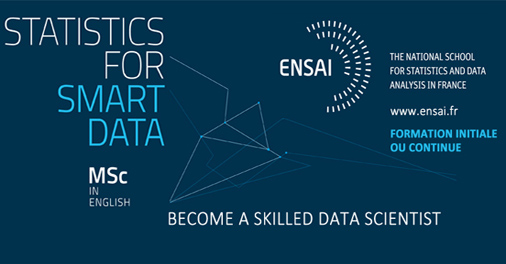 The demand for skills in the field of high-dimensional data processing, is increasing dramatically worldwide, yet serious academic programs for this domain are still quite rare.
ENSAI's program goes beyond Big Data; it has shifted its emphasis to Smart Data, thus meeting the vital challenge of smart sensing and smart processing of the plethora of data available.
Data Scientists educated at ENSAI possess the essential skills for Big Data projects  
Arnaud Laroche, Associate – ERNST & YOUNG ADVISORY
Smart Data focuses on revealing the Value and Veracity from the Volume, Variety and Velocity of Big Data.Thanks to ENSAI's renowned expertise in Data Science and its innovative approach in training specialists to process and analyze data, strong links have been built with the professional world and graduates are highly sought after.
Students trained at ENSAI bring an applied  vision to data, an expertise that industrial companies crave.

Jean André, Operations Research & Data Science Team Manager – AIR LIQUIDE
Admissions: Date & Deadline
2nd wave: from March 1, 2017 to April 23, 2017
---
[Stage à Paris @KPMG_France] Stagiaire Data Analytics – TT H/F – Référence 808126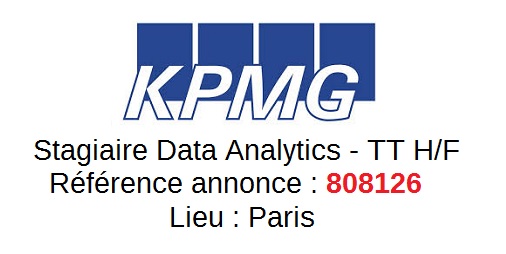 Leader de l'audit, du conseil et de l'expertise comptable, KPMG France est membre de KPMG International, réseau de cabinets indépendants exerçant dans 155 pays.
Votre cadre de mission : vous serez intégré(e) dans notre équipe de consultants innovants et motivés, spécialisés sur les problématiques Data Analytics.
Votre profil : Étudiant(e) en 2e ou dernière année d'une école d'ingénieur, en économie et économétrie ou en mathématiques appliquées/statistiques/Machine Learning, éventuellement dans le cadre de doubles diplômes avec des écoles de commerce
Vous avez déjà montré un intérêt pour le domaine de la Data Science et du Big Data & acquis les bases d'un ou plusieurs langages de programmation (R, Python, java, C, C++, Scala…)
Plus d'informations/candidature
---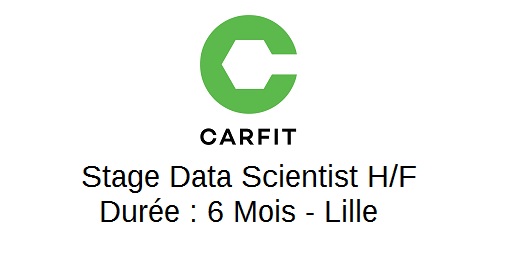 Stage Data Scientist H/F
Lieu du stage : Lille
Durée : 6 mois minimum
CARFIT est une start-up à l'avant-garde de l'innovation technologique dans le domaine de la maintenance prédictive des automobiles.
Parmi vos attributions :

Explorer et analyser des données, valoriser les résultats obtenus
Utiliser les algorithmes de Machine Learning tel que DataRobot, AWS AI, etc. pour établir de nouvelles relations dans les données qui génèrent de la valeur pour l'entreprise
Votre profil :
Master2/Dernière année d'école d'ingénieur avec spécialisation idéalement en mathématiques appliquées, statistique
Fasciné par la technologie
Fortes capacités analytiques et mathématiques
Langage de programmation et outils data science : Python et/ou R
Connaissances approfondies SQL et notions NoSQ
Plus d'informations/postuler pour ce stage : cliquez ici
---
Stage Analyste Statistique & Data Consulting H/F @Havas Media Group (Paris – Durée : 6 mois)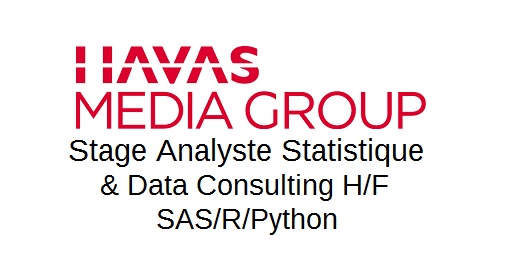 Havas Media Group est l'un des plus grands groupes mondiaux de communication. Le Groupe est présent dans tous les secteurs et dans tous les métiers de la communication.
Rejoignez notre Dataroom !
Vous participez à des projets d'études diversifiés : Mise en place d'un modèle d'attribution sur des données individuelles digitales. Choix des outils en amont du projet (SAS, R, Python…).
Votre profil : En Bac +5 en statistiques et techniques quantitatives (ENSAE, ENSAI, Master de statistiques, ISUP, Master Modélisation, Econométrie, Techniques Quantitatives Avancées, etc.)
Plus d'informations/candidature
---
Data Scientist Now : Certificat Big Data de l'UPMC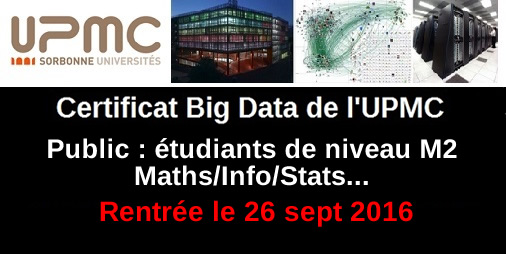 Université Pierre & Marie Curie/UPMC
4 Place Jussieu, 75005 Paris
Pour qui ?
Le certificat est ouvert à tous les étudiants en cours de formation et/ou travaillant déjà en entreprise de niveau M2 en maths appliquées, informatique, statistique….
Les étudiants devront justifier d'une certaine aisance dans les langages de programmation scientifique (R, Python, Matlab ou autres)
Début des cours : lundi 26 septembre 2016
---
IT & Big Data News: Congratulations!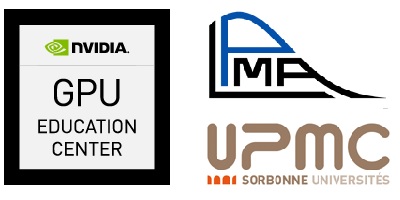 The UPMC has been awarded the GPU Education Center Program Certification by NVIDIA, the world leader in visual computing technologies.
The UPMC has been selected on its demonstrated commitment to advancing the state of parallel education using GPU Computing and/or CUDA C/C++.
---
BigDataFr recommande : Les PME à l'assaut du Big Data : le Best-Off
Pour casser les idées reçues et convaincre les PME du potentiel du Big data, Bpifrance a organisé le 03 novembre 2015 une journée sur le thème « les PME à l'assaut du Big Data ».
Revivez en vidéo le meilleur de cette journée.
1) Comment le Big Data transforme le monde ?
Visionnez les interventions recommandées par BigDataFR
---
IT managers speak out about big data analytics (source Intel) On Apache Hadoop framework: […]The industry can help by continuing to innovate around the Apache Hadoop* framework, including developing solutions for specific applications, such as real-time analytics […] This and work on standards and best practices for security, privacy, and interoperability will help organizations to take best advantage of infrastructure for big data analytics at both the hardware and software levels.
Source :
intel.com
---
Big Data on the Grill: IT Experts Review (source Intel)Mike Gualtieri, principal analyst at Forrester Research; Saran Mandair, senior director of IT, Big Data Infrastructure at PayPal and Richard Theige, senior director of operations at NextBio, are using big data to make a difference in their companies. Hear them talk about lessons learned.[…]
Source :
intel.com