Info, Actu et Événements France et International
Retrouvez ici ceux qui font l'actualité du Big Data

Préparer votre rentrée avec BigDataFr
Plus d'informations – je souhaiterais communiquer sur ma formation
---
[New @ ENSAI] MSc in Statistics for Smart Data – MSc in English: Become a skilled Data Scientist Ker- Lann Campus – Rennes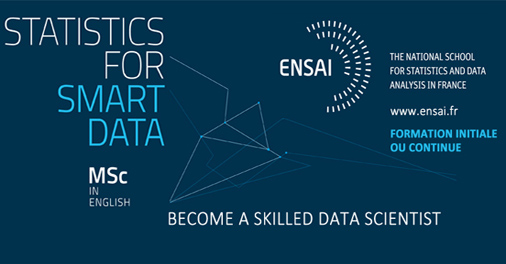 The demand for skills in the field of high-dimensional data processing, is increasing dramatically worldwide, yet serious academic programs for this domain are still quite rare.
ENSAI's program goes beyond Big Data; it has shifted its emphasis to Smart Data, thus meeting the vital challenge of smart sensing and smart processing of the plethora of data available.
Data Scientists educated at ENSAI possess the essential skills for Big Data projects  
Arnaud Laroche, Associate – ERNST & YOUNG ADVISORY
---
Smart Data focuses on revealing the Value and Veracity from the Volume, Variety and Velocity of Big Data.
Thanks to ENSAI's renowned expertise in Data Science and its innovative approach in training specialists to process and analyze data, strong links have been built with the professional world and graduates are highly sought after.
Students trained at ENSAI bring an applied  vision to data, an expertise that industrial companies crave.

Jean André, Operations Research & Data Science Team Manager – AIR LIQUIDE
Admissions: Date & Deadline
1st wave:
until February 28, 2017
2nd wave: from March 1, 2017 to April 23, 2017
---
[A vos agendas] Congrès Big Data Paris 2017, l'événement leader du Big Data en France
BigDataFr est partenaire du congrès Big Data Paris qui se tiendra les 6 et 7 mars 2017 au Palais des Congrès.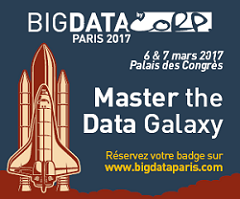 Dans le contexte d'une maturité croissante des entreprises sur le Big Data, la question du déploiement d'une organisation agile qui saura placer la data au cœur du processus décisionnel se pose plus que jamais.
Pour cette nouvelle édition, le congrès Big Data Paris 2017 est fier de vous présenter un programme d'experts autour de l'analyse prédictive, du Deep Learning et du Machine Learning.
Pour cette 6ème édition placée sous le signe du Machine Learning et de l'Intelligence Artificielle, combinés au Big Data, ce congrès vous dévoile les temps forts d'un programme d'exception :
Consultez dès maintenant le programme du Congrès
Le congrès Big Data Paris est le rendez-vous de référence de la « Data Driven Economy » :
Plus de 12 500 professionnels de la donnée et décideurs stratégiques se sont donnés rendez-vous sur le congrès.
170 Exposants français et internationaux viendront dévoiler leur savoir-faire et solutions au travers d'une exposition d'envergure au Palais des Congrès.
150 Speakers seront présents à la tribune lors des conférences, tracks consulting, ateliers, retours d'expérience.
Je réserve mon badge gratuit dès maintenant
---
Internship in Machine Learning and Big Data @ Fotonower (Paris – Europe – US)
Subject: Classification of behavior thanks Quantization and Neural Network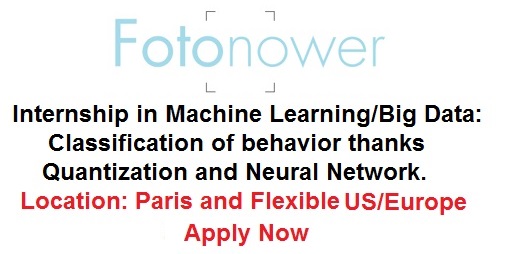 Fotonower, founded in July 2014, delivers high end services to International Brands in the Touristic area and media.
It manages social media photo rights, search and organize them for media publishers and brands Fotonower technology is build on at the edge research in Semi-supervised machine learning, Big Data, Deep Learning and further
The candidate will work with the rest of the development team. The development team counts three internal member as well as part-time developer and research advisers on Computer Vision, Machine Learning and Big Data.
---
Data Scientist Now : Certificat Big Data de l'UPMC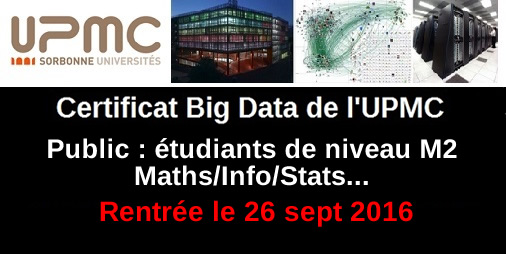 Université Pierre & Marie Curie/UPMC
4 Place Jussieu, 75005 Paris
Pour qui ?
Le certificat est ouvert à tous les étudiants en cours de formation et/ou travaillant déjà en entreprise de niveau M2 en maths appliquées, informatique, statistique….
Les étudiants devront justifier d'une certaine aisance dans les langages de programmation scientifique (R, Python, Matlab ou autres)
Début des cours : lundi 26 septembre 2016
IT & Big Data News: Congratulations!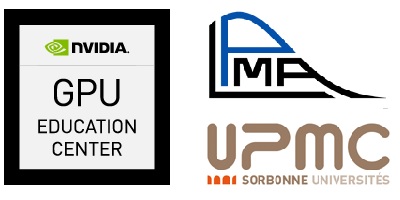 The UPMC has been awarded the GPU Education Center Program Certification by NVIDIA, the world leader in visual computing technologies.
The UPMC has been selected on its demonstrated commitment to advancing the state of parallel education using GPU Computing and/or CUDA C/C++.
---
BigDataFr recommande : Les PME à l'assaut du Big Data : le Best-Off
Pour casser les idées reçues et convaincre les PME du potentiel du Big data, Bpifrance a organisé le 03 novembre 2015 une journée sur le thème « les PME à l'assaut du Big Data ».
Revivez en vidéo le meilleur de cette journée.
1) Comment le Big Data transforme le monde ?
Visionnez les interventions recommandées par BigDataFR
---
IT managers speak out about big data analytics (source Intel) On Apache Hadoop framework: […]The industry can help by continuing to innovate around the Apache Hadoop* framework, including developing solutions for specific applications, such as real-time analytics […] This and work on standards and best practices for security, privacy, and interoperability will help organizations to take best advantage of infrastructure for big data analytics at both the hardware and software levels.
Source :
intel.com
---
Big Data on the Grill: IT Experts Review (source Intel) Mike Gualtieri, principal analyst at Forrester Research; Saran Mandair, senior director of IT, Big Data Infrastructure at PayPal and Richard Theige, senior director of operations at NextBio, are using big data to make a difference in their companies. Hear them talk about lessons learned.[…]
Source :
intel.com