Info, Actu et Événements France et International
Retrouvez ici ceux qui font l'actualité du Big Data

Préparer votre rentrée avec BigDataFr
Plus d'informations – je souhaiterais communiquer sur ma formation
---
Recrutement Data Impact à Paris

Data Impact est une startup spécialisée dans la récolte et le traitement de données massives dans le secteur alimentaire. L'entreprise, spécialisée dans la mise en place d'outil de business intelligence pour les professionnels, collabore avec les leaders du marché.
Retrouvez dès à présent toutes les opportunités professionnelles de Data Impact
---
[Semaine Talents du Big Data – BigDataFr] Junior Data Analysts, Junior Conseil de l'AMSE, donne un nouveau souffle à vos données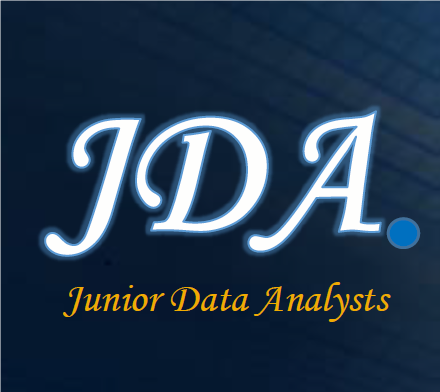 Junior Data Analysts est une association loi de 1901 dont les objectifs sont d'offrir les meilleures solutions aux entreprises et institutions dans le domaine de l'analyse de données.
Les projets réalisés vont de la finance quantitative à l'évaluation des politiques publiques, en passant par le marketing stratégique mais ont tous un dénominateur commun : la data.
Parmi les projets en cours : statistiques sur les devenir des étudiants de l'école, une étude pour Peugeot-PSA Chine et une collaboration avec la chambre de commerce et d'industrie Marseille Provence.
Lire le communiqué de presse
Lire l'interview des fondateurs : Jonathan Daniel Stern, Armand Giraud & Hagop Boghazdeklian (en anglais)
Plus d'informations : www.jdanalysts.fr
---
Data Scientist Now : Certificat Big Data de l'UPMC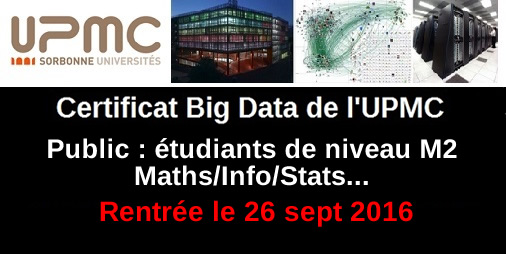 Université Pierre & Marie Curie/UPMC
4 Place Jussieu, 75005 Paris
Pour qui ?
Le certificat est ouvert à tous les étudiants en cours de formation et/ou travaillant déjà en entreprise de niveau M2 en maths appliquées, informatique, statistique….
Les étudiants devront justifier d'une certaine aisance dans les langages de programmation scientifique (R, Python, Matlab ou autres)
Début des cours : lundi 26 septembre 2016
IT & Big Data News: Congratulations!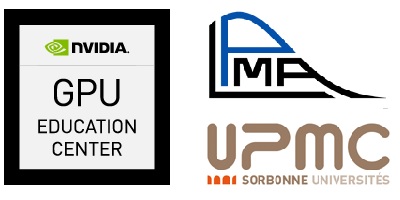 The UPMC has been awarded the GPU Education Center Program Certification by NVIDIA, the world leader in visual computing technologies.
The UPMC has been selected on its demonstrated commitment to advancing the state of parallel education using GPU Computing and/or CUDA C/C++.
---
BigDataFr recommande : Les PME à l'assaut du Big Data : le Best-Off
Pour casser les idées reçues et convaincre les PME du potentiel du Big data, Bpifrance a organisé le 03 novembre 2015 une journée sur le thème « les PME à l'assaut du Big Data ».
Revivez en vidéo le meilleur de cette journée.
1) Comment le Big Data transforme le monde ?
Visionnez les interventions recommandées par BigDataFR
---
IT managers speak out about big data analytics (source Intel) On Apache Hadoop framework: […]The industry can help by continuing to innovate around the Apache Hadoop* framework, including developing solutions for specific applications, such as real-time analytics […] This and work on standards and best practices for security, privacy, and interoperability will help organizations to take best advantage of infrastructure for big data analytics at both the hardware and software levels.
Source :
intel.com
---
Big Data on the Grill: IT Experts Review (source Intel) Mike Gualtieri, principal analyst at Forrester Research; Saran Mandair, senior director of IT, Big Data Infrastructure at PayPal and Richard Theige, senior director of operations at NextBio, are using big data to make a difference in their companies. Hear them talk about lessons learned.[…]
Source :
intel.com