New Master Big Data at EISTI – Master ADEO
Next Intake for M1 and M2: September 2015
Mast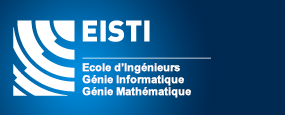 er in Business Analytics: Architecture, Data Exploration and Optimization (ADEO)
Master accredited by the French Ministry of Higher Education and Research
Save the Date! Live session: November 27th, 2014 (2 pm French local time)
We invite you to attend LIVE broadcast on Campus Channel and participate in online discussion with our specialist and students enrolled in Master in Business Analytics.  Read more
The EISTI, an engineering school with two tracks in Computer Science and applied Mathematics is acknowledged as the best in France by independent organizations.
The Master ADEO draws on the recognized excellence of our engineering school in business intelligence and has grown from the specializations in Decision Support, Business Intelligence and Business Analytics.
Business Intelligence and now Business Analytics have become key elements of all companies.
The aim of this Master is to train specialists in information systems and decision support, holding a large range of mathematic- and computer-based tools which would allow them to deal with real problems, analyzing their complexity and bringing efficient algorithmic and architectural solutions.
Big Data is going to be the Next Big Thing over the coming 10 years.