BigDataFr recommends : MATLAB for Big Data, Machine Learning and Production Analytics Systems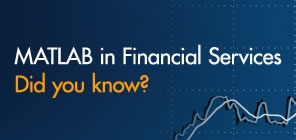 Big data is a popular buzz word today and a challenge you are likely to encounter. How do you make sense of the information contained in the data? And more importantly, how do you run analyses or analytics on:
Data too large to fit in memory (volume)
Real-time streaming data (velocity)
Data from diverse sources (variety)
Whether you are new to MATLAB or a long-time user, there are many options available for running analytics, such as machine learning on large datasets. From standard logistic regression to neural networks and random forest, you can interactively explore different models and choose which one fits your data and objectives. So, which approach will you use on your big data challenge?