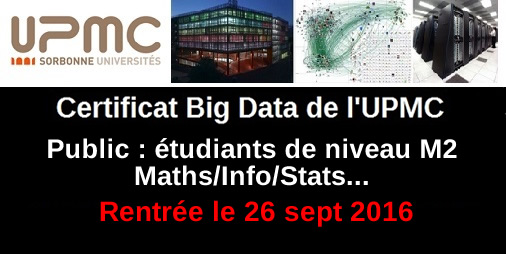 ---
Le Certificat Big Data de l'UPMC : début des cours le lundi 26 septembre 2016

Pour qui ?
Le certificat est ouvert à tous les étudiants en cours de formation et/ou travaillant déjà en entreprise de niveau M2 en maths appliquées, informatique, statistique….
Les étudiants devront justifier d'une certaine aisance dans les langages de programmation scientifique (R, Python, Matlab ou autres)
Objectifs
Aucune méthode universelle ne peut répondre aux défis du big data mais tous les domaines des sciences sont requis, au premier rang desquels les mathématiques et l'informatique.
L'objectif de ce certificat est d'offrir aux étudiants des compétences pluridisciplinaires leur permettant d'aborder des problèmes du big data.
Ainsi, profitant d'enseignements réalisés par des mathématiciens et des informaticiens spécialistes des statistiques, de l'apprentissage, des grandes masses de données les étudiants ayant suivi ce certificat auront des clefs pour résoudre les problèmes du big data.
Responsables Pédagogiques
– Gérard Biau : Laboratoire de Statistique Théorique et Appliquée (LSTA)
– Patrick Gallinari : Laboratoire d'Informatique de Paris 6 (LIP6)
– Yvon Maday : Laboratoire Jacques-Louis Lions (LJLL)
– Gilles Pagès : Laboratoire de Probabilités et Modèles Aléatoires (LPMA)
Début des cours : lundi 26 septembre 2016
Se rendre à l'UPMC

Plus d'informations
BigData@maths-fi.com
---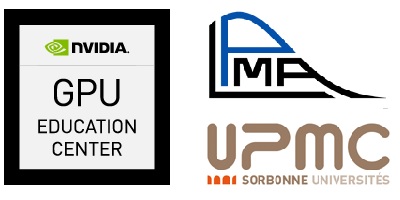 The UPMC has been awarded the GPU Education Center Program Certification by NVIDIA, the world leader in visual computing technologies.
This Program recognizes and supports academic institutions with a track record teaching GPU Computing at both undergrade and graduate level.
The UPMC has been selected on its demonstrated commitment to advancing the state of parallel education using GPU Computing and/or CUDA C/C++.