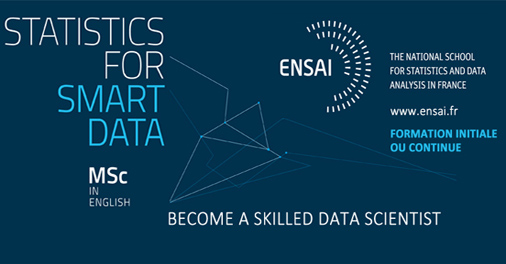 New @ENSAI: MSc in Statistics for Smart Data: Become a skilled Data Scientist – Ker Lann Campus (Rennes) Apply now

---
From Big Data to Smart Data
The demand for skills in the field of high-dimensional data processing, is increasing dramatically worldwide, yet serious academic programs for this domain are still quite rare.
ENSAI is taking advantage of its accreditation renewal to revamp the Master of Science in Big Data program to shift its focus to Smart Data. As a result, the existing program will become the Master of Science in Statistics for Smart Data to reflect the evolution of the program.
Data Scientists educated at ENSAI possess the essential skills for Big Data projects  
Arnaud Laroche, Associate – ERNST & YOUNG ADVISORY
---
ENSAI's program goes beyond Big Data; it has shifted its emphasis to Smart Data, thus meeting the vital challenge of smart sensing and smart processing of the plethora of data available.
Smart Data focuses on revealing the Value and Veracity from the Volume, Variety and Velocity of Big Data.
Thanks to ENSAI's renowned expertise in Data Science and its innovative approach in training specialists to process and analyze data, strong links have been built with the professional world and graduates are highly sought after.
Students trained at ENSAI bring an applied  vision to data, an expertise that industrial companies crave.

Jean André, Operations Research & Data Science Team Manager – AIR LIQUIDE
---
Strong points of the program
Explores a unique field where Statistics, Applied Mathematics,and Computer Science converge
Addresses practical, real-world issues and provides a solid theoretical background
Prepares for a career with rapidly-increasing employment worldwide
IT Tools
Cloud Computing
Hadoop, NoSQL, Spark
Python, R
ACCRE
After studying Statistics I was looking to specialize in the field of Data Science.  Thanks to  the   international   nature   of   the  MSc, students from different horizons and nationalities thrive side by side.
Moustapha Ousmane Bawa Gaoh, Student – Class of 2016
MSc Overview – MSc in Statistics for Smart Data
Application Procedure & Conditions – Mandatory Application Documents – Application form
---
Graduates of the program are skilled Data Scientists.
In addition to doctoral possibilities in research, they will have numerous career opportunities in international corporations and data start-ups in many fields including:
Business Analytics
Internet of Things
Personalized Medicine
Smart Grid Optimization
Smart Society
Social Networks Analysis
Supply Chain Optimization
This Master of Science in Statistics for Smart Data is open to students of all nationalities.
All applicants must have a minimum of 4 years of higher education (at least a 4-year Bachelor's degree or the first year of a Master's).
A strong statistical, mathematical and computer science background is required.
Accomodation
ENSAI is located on the Ker Lann Campus, near the cosmopolitan city of Rennes, France.
Only 90 minutes from Paris by train, Rennes is known for its many cultural events and festivals, as well as being a lively student city with two major universities and a number of graduate schools.
Rennes is the capital of Brittany, a region renowned for some of France's most spectacular coastline and landscapes.
All Ker-Lann Campus residence halls are open to ENSAI students
Many of ENSAI's foreign students are warmly welcomed at Résidence Univercity.
---
3rd wave: From April 24, 2017 to May 31, 2017
Opening 2nd and 3rd waves will depend upon the number of available places following the preceding wave(s).

MSc Overview – MSc in Statistics for Smart Data
Application Procedure & Conditions – Mandatory Application Documents – Application form
More information: www.ensai.fr