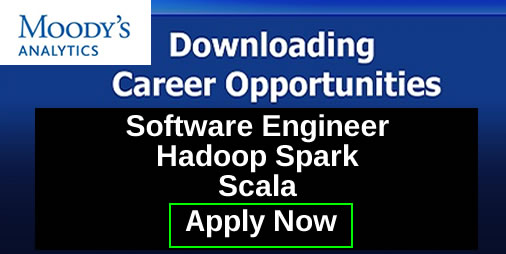 ---
[Big Data @ Moody's Analytics (France)] : Software Engineer – Java 8 & Scala
Moody's is an essential component of the global capital markets, providing credit ratings, research, tools and analysis that contribute to transparent and integrated financial markets.
Moody's Corporation (NYSE: MCO) is the parent company of Moody's Investors Service, which provides credit ratings and research covering debt instruments and securities, and Moody's Analytics, which offers leading-edge software, advisory services and research for credit and economic analysis and financial risk management. The Corporation, which reported revenue of $3.5 billion in 2015, employs approximately 10,400 people worldwide and maintains a presence in 36 countries.
Your Mission:
Embedded in an agile team in our R&D center in Grenoble (France), you will participate in our new releases of our regulatory risk software.
We are currently building a new « big data » offer programmed in Scala and relying on Hadoop and Spark technologies.
The Software Engineer will be member Software Engineering team in our R&D center based in Grenoble and dedicated to develop Moody's Analytics Solutions across the EMEA region.
He will also be part of a multidisciplinary team built to the agile SCRUM design. The Software Engineer will work in cooperation with our architects, development engineers and quality engineers in a multicultural environment.
Ideal candidate:
Master's Degree in Computer Science or Engineering with 3+ years experience in software development.
Good knowledge in Scala or other functional language (Java 8,…)
We will also appreciate:

A first experience on Spark
Knowledge of Angular

Experience of development and / or deployment on the Cloud (AWS, Azure, …)
Finally mastering Ruby will be a plus. And be open minded to learn and innovate!
Moreover you are open minded to understand financial background. Fluent in French and a good level in English
Required skills:
SCALA ou Java 8,
Team Spirit