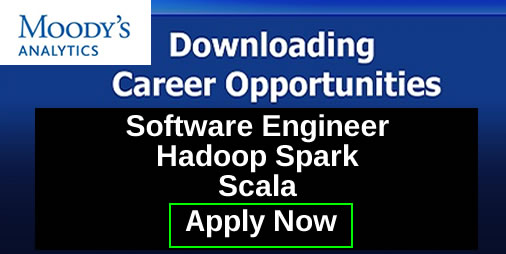 ---
Un(e) Software Engineer IT Finance – Technologie Hadoop et Spark – English/French
Moody's is an essential component of the global capital markets, providing credit ratings, research, tools and analysis that contribute to transparent and integrated financial markets.
Moody's Corporation (NYSE: MCO) is the parent company of Moody's Investors Service, which provides credit ratings and research covering debt instruments and securities, and Moody's Analytics, which offers leading-edge software, advisory services and research for credit and economic analysis and financial risk management.
The Corporation, which reported revenue of $3.5 billion in 2015, employs approximately 10,400 people worldwide and maintains a presence in 36 countries.
Department/Team
The Software Engineer will be member Software Engineering team in our R&D center based in Grenoble and dedicated to develop Moody's Analytics Solutions across the EMEA region. He will also be part of a multidisciplinary team built to the agile SCRUM design.
The Software Engineer will work in cooperation with our architects, development engineers and quality engineers in a multicultural environment.
Embedded in an agile team in our R&D in Grenoble (France), you will participate in our new releases of our regulatory risk software.
In addition to our existing applications based on Oracle and C ++, we build a new « big data » offer written in Scala and relying on Hadoop and Spark technologies.
You will actively contribute to this technological breakthrough and participate to the main milestones of software development:
-Understanding the functional need
-Architecture and engineering design
-Development and unit tests
-Supports quality teams in the establishment of validation and regression testing.
Qualifications
-Master's Degree in Computer Science or Engineering with 3 years or more experience in software development.
-You have a significant experience in C++
-A good knowledge in functional language programming (Java 8…) – especially in SCALA – will be very appreciated
-A first experience in Spark will be a plus
-Good understanding of database is required
-And be open minded to learn and innovate!
-Moreover you are interested to understand financial background.
-Fluent in French and a good level in English
---
Moody's Analytics, filiale de Moody's Corporation, est un des leaders mondiaux d'outils et de services dans la gestion des risques financiers.
Regroupant les activités hors-notation de crédit de Moody's, Moody's Analytics propose à ses clients des solutions complètes qui englobent des outils de mesure du risque de crédit, des modèles d'évaluation, des analyses économiques, ainsi que des logiciels dans le management des risques financiers.
La division Software de Moody's Analytics recrute : un ou une Software Engineer (Ingénieur Développement)
Poste et missions
Au sein d'une équipe « agile » de notre R&D basée à Grenoble, vous contribuerez au développement des nouvelles versions de nos logiciels de calcul de risque réglementaire.
Outre nos applications existantes basées sur Oracle et le langage C++, nous mettons en place une nouvelle offre « big data » écrite en Scala et s'appuyant sur les technologies Hadoop et Spark.
Vous accompagnez cette rupture technologique et participerez aux principales étapes du développement logiciel :
-Compréhension du besoin fonctionnel
-Architecture et conception technique
-Réalisation des développements et mise en place de tests unitaires
-Assistance des équipes qualité dans la mise en place des tests de validation et de non régression.
Profil
Diplômé/e Ingénieur ou BAC+5 Informatique avec au moins 3 ans d'expérience professionnelle, vous avez de solides compétences en développement logiciel.
Vous maitrisez les technologies suivantes :
– C++
– SQL et PL/SQL avec une bonne compréhension de la mise en oeuvre des bases de données pour un développeur (idéalement Oracle)
– Une expérience significative en programmation fonctionnelle (Java 8,…) – idéalement en SCALA – sera très appréciée.
– Une première expérience sur Spark est un plus
– Connaitre Ruby est un plus
Surtout, vous avez l'ouverture d'esprit et le désir d'innover pour vous former sur les technologies que vous ne connaissez pas encore…
Vous avez de l'intérêt pour la partie fonctionnelle financière.
Vous maitrisez l'anglais écrit et vous pouvez travailler dans un contexte international anglophone.
En nous rejoignant, vous serez intégré/e dans des équipes pluridisciplinaires organisées selon le modèle agile SCRUM, au sein desquelles collaborent experts fonctionnels, architectes, ingénieurs de développement et ingénieurs qualité.
Vous acquerrez ainsi de solides compétences méthodologiques, techniques et fonctionnelles dans le monde complexe et exigeant de la banque/finance et vous appuierez sur une expertise reconnue.
Vous travaillerez dans un contexte multiculturel et pourrez évoluer au sein d'une structure internationale.