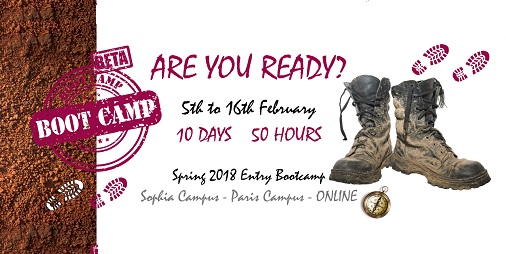 [Devenez Data Scientist] Dernière Ligne Droite ! Participez au Bootcamp de pré-rentrée de DSTI !
2 semaines, 10 jours, 50 heures de cours pour se préparer au programme.
Ce Bootcamp est organisé sur les campus de Paris et Sophia-Antipolis. Possibilité de le suivre en ligne du 5 au 16 février 2018.
Comment intégrer le Bootcamp : le bootcamp est exclusivement réservé aux candidats inscrits avant le 31 janvier 2018 pour la rentrée de mars 2018, intégrez dès maintenant le MSc in Applied Science & Big Data de DSTI.

Devenir Data Scientist et participer au Bootcamp : cliquez ici.
Infos MSc in Applied Science & Big Data – Programme – Infos Candidature – Postuler
---
Data Science in Paris: MSc in Applied Data Science and Big Data  Programme  –  APPLY NOW
Amongst the « Best Online Masters in Data Science & Analytics » according to KDnuggets.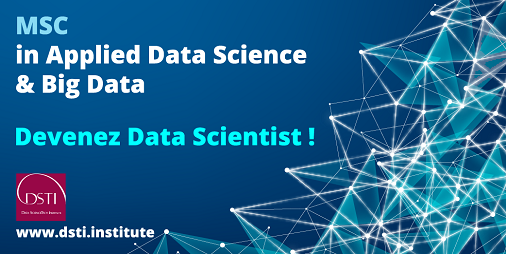 MSc in Applied Data Science & Big Data
Location: Paris Campus/Sophia or Online
Applications for March 2018 are open!
Programme  –  APPLY NOW

DSTI is the First French Postgraduate & Industrial Institution in Data: Science and Big Data.
With DSTI's MSc in Applied Data Science & Big Data you will:
Learn how to understand the analysis, design, implementation & monitoring of IT & Big Data architectures
Get familiar with machine and deep learning algorithms with an industrial approach to applied mathematics
Learn how to deploy Big Data architectures and Machine Learning results into corporate systems and get familiar with data visualisation
Get awareness of the legal consequences of data handling, with a pinch of ethical thinking regarding the consequences of mining (big) data
Selected Courses
Applied Mathematics for Data Science - - - Calculus – Linear Algebra – Trigonometry & Complex Numbers
Advanced Statistical Analysis & Machine Learning CART and Random Forests and applications to Map/Reduce Features
Artificial Neural Network and Deep Learning --- Data representation and distributed representations, Universal Interpretation Theorem
Algorithmics for Data Science – Optimisation Combinatorics and Complexity – Graph-based modelling & algorithms for discrete optimisation.
The Hadoop & SPARK ecosystem HDFS, scheduling & ressources management, Workflow management & ETL, Dataflow management...
Program details
24 Weeks of Lectures
600 Hours of Tuition
17 Courses
10 Real-Life Projects
2 Enterprise-Level Certifications
Be trained to and take two Enterprise-Level Certifications examinations:
Amazon AWS Cloud-Computing DSTI Chair
Preparation for AWS Certified Solutions Architect – Associate SAS Institute The SAS ecosystem DSTI Chair
Preparation to SAS Enterprise Miner certification

---
Organisation
This 6-month of classes and 6-month internship Applied MSc programme, with its two entries in Autumn and Spring, is designed to open your career to these Big Data Analytics jobs all industries are looking for.
Classes are given in English from the:
end of September to beginning of April for the Autumn entry;
beginning of March to mid-October for the Spring entry;
Classes for this Applied MSc programme are offered:

on a full-time basis from Data ScienceTech Institute campuses (around 5hrs a day) along with "Engineering Projects" and followed by a 6-month work placement.

through online education
If you are already employed by a French company and taking a sabbatical, tuition fees may be covered by the "Congé Individuel de Formation" scheme (see with your HR department)
---
Eligibility
Applicants with a 3-year BA, BSc or BENG degree: 3 years of work experience
Applicants with a 4-year BA, BSc-BENG or MA-MSc-MENG degree: Work experience
Applicants with a 5-year MA, MSc – MENG or Chartered Engineers: No particular conditions
If you are NOT a citizen and passport holder of a European Economic Area (EEA) country, Andorra or Monaco, you will be required to apply for a long-stay student visa. Please carefully read the requirements on our "Visa Procedure" page.
---
Career opportunities
They are virtually limitless since all organisations need expertise in data science. Also, in spite of the youth of the School, all our students have found industrial placements very easily.
Indeed, the intensive aspect of our programmes allows the students of DSTI to be trained on a wide spectrum of skills necessary for the different professions in data science. This allows each student to naturally specialise according to his or her skills and abilities in particular fields.
In partnership with Couthon Conseil, we have established the profiles of the 6 most sought-after jobs in Big Data and incorporated them into our the Applied MSc & Advanced MSc programmes.
---
Accomodation
Through our private platform dedicated to housing, students and prospective students can access student housing offers close to each campus of their schools.
Our solution fosters the network effect, allowing the students exchange tips and good deals, or find a flatmate.
More information: https://dsti.immojeune.com/en/
---
Applications for March 2018 entry are open!

Programme – Brochure  – Application process – APPLY NOW
 More information: https://www.dsti.institute/